BODY CONTOURING
Reduce Cellulite and Inches! Smooth Skin!
Take Control of Your Body With Body Contouring
Body contouring is a non-invasive cosmetic operation aimed primarily at improving the shape of the body. As much as losing weight can be such an uphill task, once you achieve your desired weight you may notice the skin becomes loose in some cases making the results of your weight loss tainted. Body contouring works to reduce your excess skin while also eliminating the pockets of fat resistant to diet and exercise. Think of it as the final step towards achieving that perfect hourglass shape after a major weight loss. The procedure is aimed towards improving the general body aesthetics but the benefits are more than external. The health benefits of body contouring are nowadays becoming increasingly hard to ignore.

Body contouring has reached great popularity in the recent years due to the fact that it's the safest way to achieve the best results, it can literally alter the shape of different areas of your body such as the torso, upper arms, chest, and thighs so you look slimmer and more defined. It also helps people who have already lost a lot of weight in the sense that our Ultimate Body Contour can completely eliminate and reduce excess skin and fat. Don't be scared to show yourself off in a bikini after this because one of the best results body contouring offers is that it diminishes the appearance of cellulite.
Body Contouring: The Nonsurgical Fat Reduction Treatment
If you're struggling to get rid of fat pockets on your body, despite your dieting and exercise regimen, and you really want to achieve a trimmer appearance without having to undergo invasive surgery, then our comprehensive contouring service at Belcorpo Med Spa may be a perfect fit for your body. Our highly trained specialists use our state-of-the-art equipment to transform your body, without the need for surgical procedures.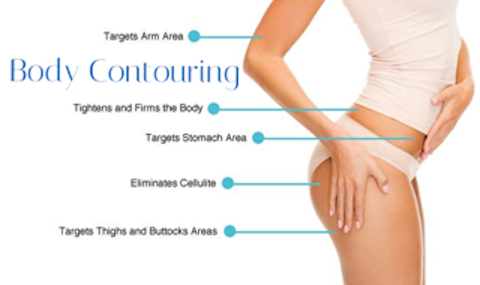 Body Contouring Treatment Packages
*Number of treatments recommended are discussed and individually assessed by your technician at the time of your first appointment and may be combined with other treatments to deliver optimal results.
Lipo-Cavitation Ultrasonic Fat-Reduction (20 minutes each area)
Packages of 3, 6, 9 per area treated are available
BK Ultra Smooth, Slim and Reduce (30 minutes each area)
Single Treatment, 3 Treatments and 4 Treatments per area are recommended
Lipo-Laser (30 minutes each area)
Packages of 3, 6, 9 per area treated are available
Radio Frequency Skin Tightening Body Treatments (20 minutes each area)
Packages of 3, 6, 9 per area treated are available
Ultimate Body Contour (40 minutes each treatment)
Consists of Ultrasonic Cavitation, Tripolar Radio Frequency & Vacuum
Packages of 1, 3, 6, 9 treatments are available